Kendriya Vidyalaya Sangathan, one of the world's largest chains of schools, is a system of central government schools in India that are instituted under the aegis of the Ministry of Education, Government of India.
Results
KVS Quiz
Brought to you by Kendriya Vidyalaya Adoor Library
Well done, guest! You deserve a trophy!
Reload quiz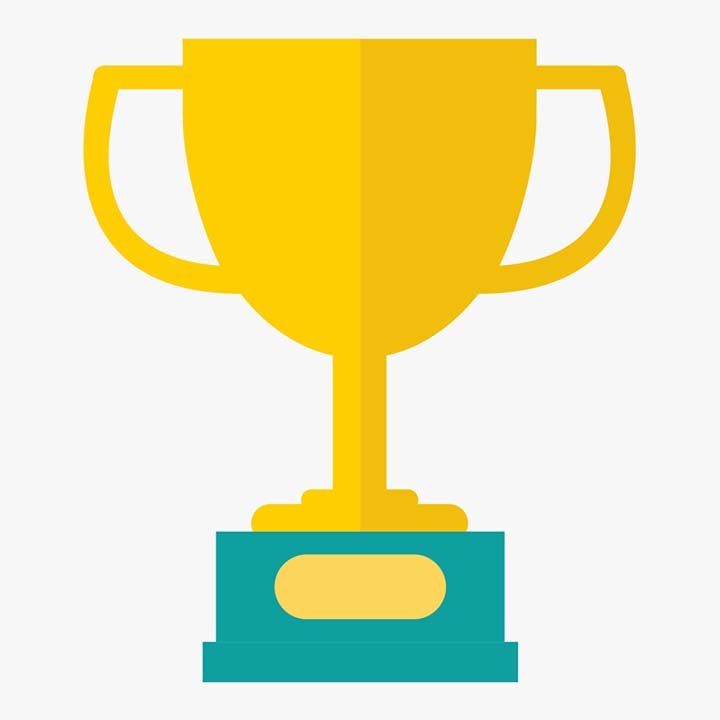 KVS Quiz
Brought to you by Kendriya Vidyalaya Adoor Library
Nice try, guest. Why don't you take the quiz again?
Reload quiz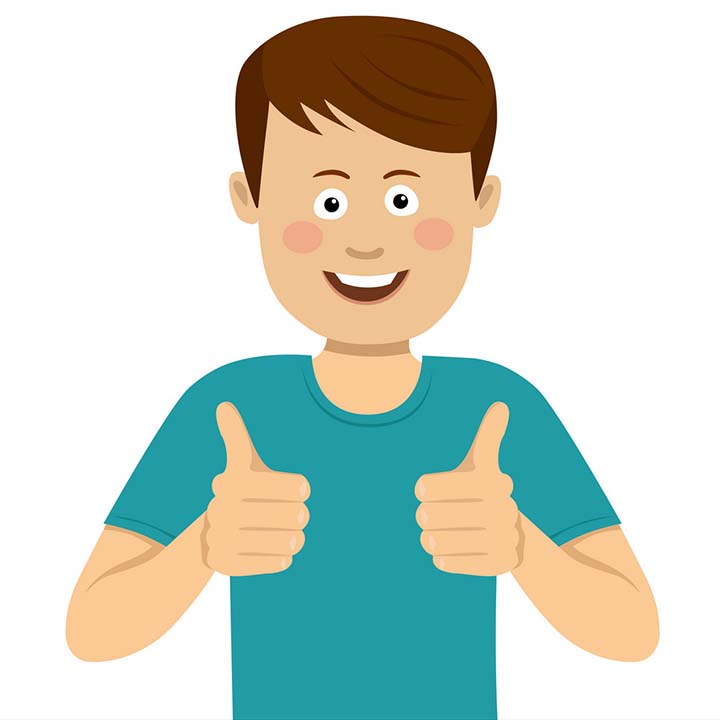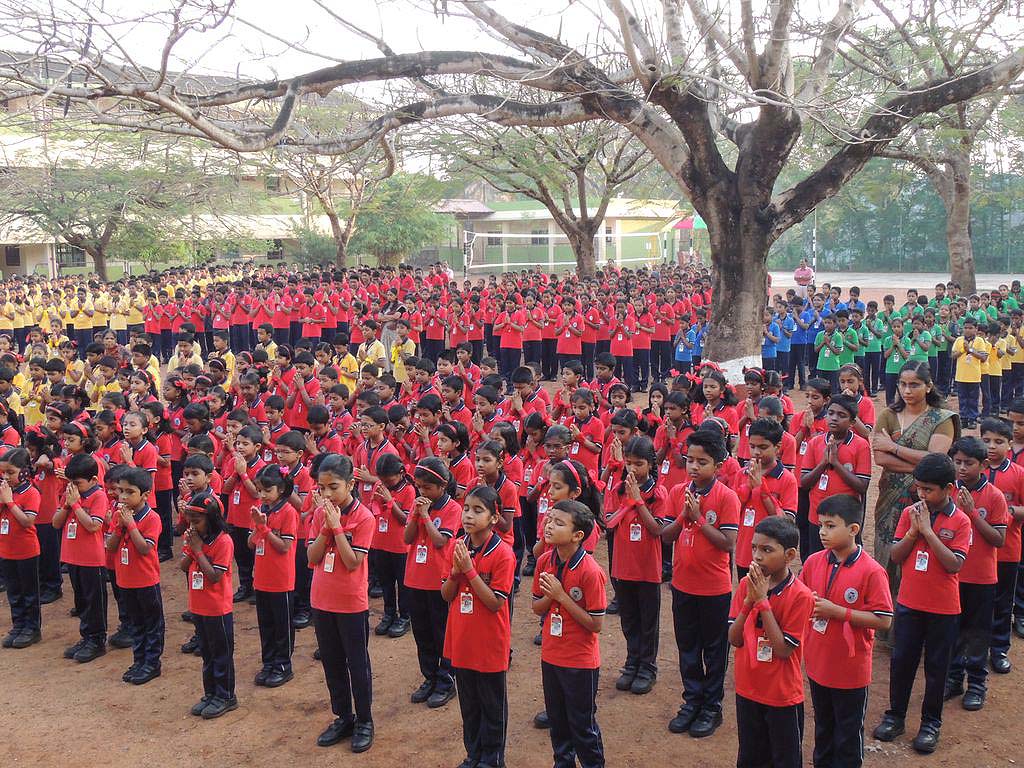 #1.

The morning prayer in every Kendriya Vidyalaya starts with these verses in Sanskrit:
Asato mā sadgamaya
Tamasomā jyotir gamaya
Mrityormāamritam gamaya
The above lines are taken from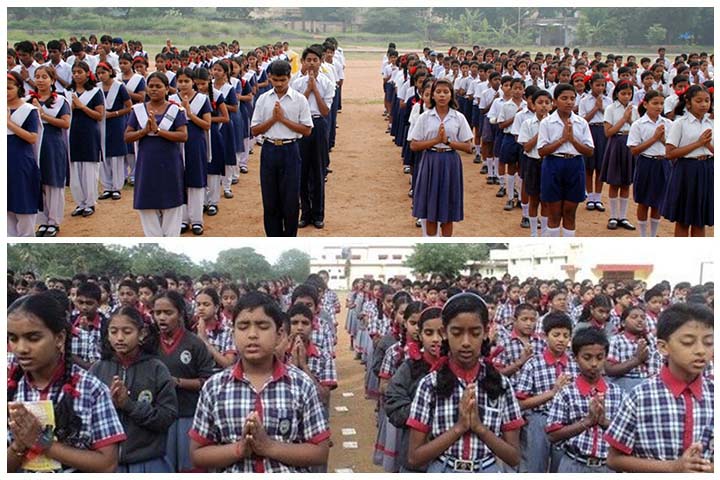 #2.

In which year were new uniforms for students introduced in KVS?
#3.

On which day is the Foundation Day of Kendriya Vidyalaya Sangathan celebrated every year?
#4.

What is the motto of KVS?

The sentence,

tattvaṃ pūṣannapāvṛṇu

, is a part of the 15th verse from the Īśāvāsyopaniṣad. It can be split as, tat – tvaṃ – pūṣan – apāvṛṇu.

Pūṣan = O Pūṣan! (One of the names of Sun, meaning 'The nourisher');

Tvaṃ = You;

Tat = That;

Apāvṛṇu = uncover; remove; disclose.

tattvaṃ pūṣannapāvṛṇu = "O Pūṣan! You (please) uncover / remove that".

It is a prayer to the Sun to uncover something, so that what remains concealed underneath it can be seen clearly. Uncover what? What is being desired to be seen?

To understand the meaning properly, we should understand the whole verse:

हिरण्मयेन पात्रेण सत्यस्यापिहितं मुखम् ।
तत्त्वं पूषन्नपावृणु सत्यधर्माय दृष्टये ॥

hiraṇmayena pātreṇa satyasyāpihitaṃ mukham ।
tattvaṃ pūṣannapāvṛṇu satyadharmāya dṛṣṭaye ॥

"The face of the Truth has been covered, as it were, with a 'golden lid' (which is very delusively attractive); O Pūṣan! You please remove it (that lid), so that satya (Truth) and dharma (that lie concealed behind the lid) can be seen (by us, who are desirous of both of them)!"

The Sun is the lord of all beings on the earth, and his face is an intensely dazzling golden orb which we cannot look at directly and get to see. This verse is an ardent prayer to the lord for him to enable us to have a vision of his, who is of the form of satya and dharma.

The true import is that the attractions of this world, which the sunlight enables us to see, are so bewitching and delusive that we are not able to ascertain what satya and dharma are. Due to this, we usually are led astray, unable to see the path of truth and goodness. In order for us to visualise satya and dharma, which are the true guiding lights of our lives, the Sun is being prayed to.
#5.

As of December 2022, how many Kendriya Vidyalayas are there in total?
#6.

All Kendriya Vidyalayas are affiliated to
#7.

How many ZIETs (Zonal Institute of Education and Training) are there under KVS?

KVS has established 5 Zonal Institute of Education and Training (ZIETs) which are entirely dedicated to training the Officers/Teachers and other Staff and the Committee is constituted to review periodically these programmes.
#8.

Under which Ministry of the Government of India does KVS come?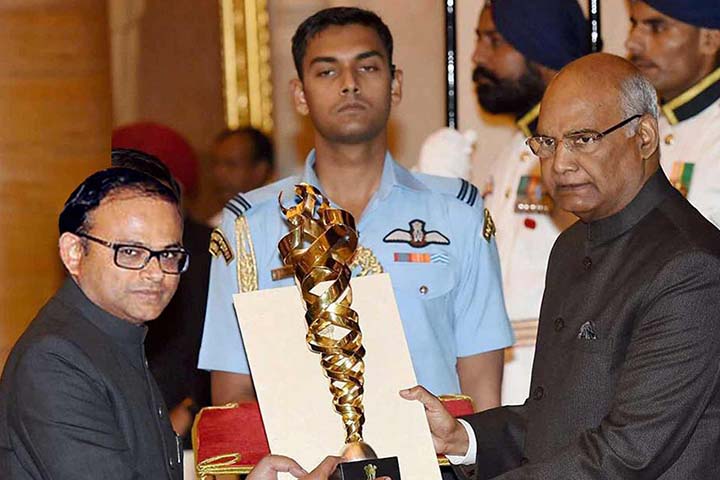 #9.

When was KVS felicitated with Rashtriya Khel Protsahan Puruskar by the Government of India?

The Rashtriya Khel Protsahan Puruskar scheme was introduced by the government in 2009 to encourage involvement of corporates and sports promotion boards in the development of sports in the country.

The Union Ministry of Youth Affairs & Sports has revised the Scheme of Rashtriya Khel Protsahan Puruskar in the year 2015, after which the award was given in four categories.

In 2017, KVS was awarded the Rashtriya Khel Protsahan Puruskar in the category "Identification and Nurturing of Budding and Young Talent".

In the image, Shri. Santosh Kumar Mall, IAS, then Commissioner of KVS, can be seen receiving the Rashtriya Khel Protsahan Puraskar-2017 from Hon'ble President of India Shri. Ram Nath Kovind at Rashtrapati Bhavan.

KVS also received the Rajbhasha Kirti Puraskar on the occasion of Hindi Diwas in 2018-19.
#10.

What is the expansion of KVS?
#11.

The chairman of Kendriya Vidyalaya Sangathan is
#12.

Who is the present Commissioner of Kendriya Vidyalaya Sangathan (December 2022)?
#13.

There are three Kendriya Vidyalayas outside India. They are located in all the following places EXCEPT
#14.

Has KVS been recognized as an independent State by Bharat Scouts & Guides Movement?
#15.

With more than 1200 schools, KVS is one of the largest school chains in the world. How many Kendriya Vidyalayas (or Central Schools, as they were called initially) were established in 1963 when KVS was formed?
#16.

Kendriya Vidyalaya Adoor comes under which Region of KVS?
#17.

Kendriya Vidyalayas in India are divided among _____ regions.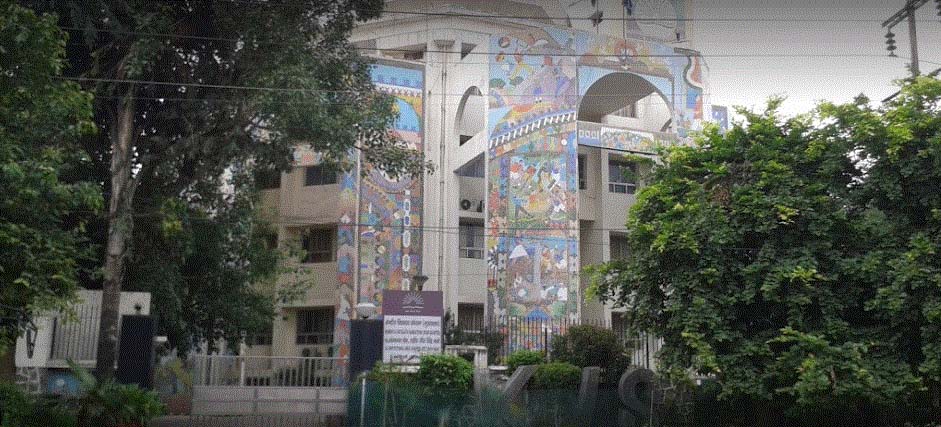 #18.

Where is the Head Quarter of KVS located?
#19.

The year in which Kendriya Vidyalaya Sangathan was established is
#20.

Kendriya Vidyalayas were initially called _________________.

KVS is a system of central government schools in India and other countries that have been instituted under the aegis of the Ministry of Human Resource Development and came into being in 1963 under the name Central Schools. Later, the name was changed to Kendriya Vidyalaya.